I often come across a phone call from the customer saying that I want a ton of tankers, but when I ask if you are refueling or transporting oil, some customers will say that they cannot distinguish between the two terms. Does oil pull it? This caused some customers to buy cars wrong.
Now we talk about the association of tankers, refuellers and tankers.
The tanker we usually talk about is a generic term. We can call it a tanker truck for any vehicle that transports oil. Obviously, the tanker and tanker are broadly defined as tankers. A small category of tanker trucks The difference between tanker trucks and mobile refuellers is that tanker trucks are fixed-point shipments and do not have counting refueling capabilities. The refueling trucks are equipped with tankers, automatic reels, refueling guns, pumps and other major components on the basis of tankers, which are mainly used as derivatives of petroleum (petrol, diesel, crude oil, lubricants, and coal tar, etc.) ) Transportation and storage. The mobile refuelling vehicle can be refueled by amount and per litre by installing a tanker, because the flexibility of mobile refueling vehicles can be greater in cities, suburbs, construction sites, mines, docks, rural roads and other places without gas stations. The refueling of automobiles, loaders, excavators, cranes, mining equipment, and ships has greatly facilitated the addition of various vehicles and equipment to gas stations for oil addition.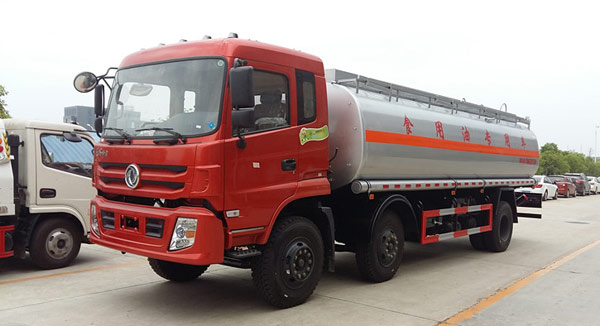 Configuration of mobile refueling vehicle:
1. Tanker: Shanghai Bray Computer Taxable Fueling Machine, Guangdong Hengshan Fueling Machine, Beijing Sanjin Fueling Machine, Beijing Jialijia Fueling Machine, Zhengzhou Zhengxing Fueling Machine.
2. Pump: Shandong Boshan pump, Jiangsu pump, Suizhou Yifeng pump
3. The main functions: self-priming oil, from the oil, computer tax control fuel, flow in the refueling and other functions
Design the tanker function according to the main purpose of the mobile refueller. Refueling Truck manufacturers standard refueling vehicles can achieve independent sub-positions, can be divided into different oil products, chemicals, designed to achieve the pump into the pump out of the table. The material of the tank body is carbon steel, stainless steel, lining rotomolding, glass steel. Pot-shaped square, oval, round. Oil pumps use self-priming pumps and gear pumps. The oil meter uses single-count, double-count, tax-controlled fuel dispensers. You can also choose to install water tanks, European standard tanks, and subsea valves.
This explanation makes it clear that the relationship between tankers, refuelers, and mobile tankers is very clear. If you have any problems, please call the special hotline 1897179966.
Bulk cement trucks,Composition of parts is vehicle chassis, Bulk Cement Truck tanks, gas line system, automatic discharge device and other components. Suitable for fly ash, cement, lime powder, mineral powder, granules alkali and other particle diameter of not more than 0.1mm powder dry materials transported in bulk. Mainly for cement, cement warehouses and large construction sites, can save a lot of packaging materials and handling labor.
Bulk Powder truck body mainly by the cylinder, the upper end of the tank to the feed opening, fluidized bed, the discharge tube assembly, the intake pipe and other accessories.Top of the tank is divide to two or three compartment.
Bulk Cement Tank Truck,Bulk Cement Transport Truck,Dry Bulk Cement Truck,Bulk Unloading Truck,Bulk Cement Truck
Suizhou lishen special vehicle co.,ltd , https://www.ls-truck.com