Aerial vehicles are vehicles that transport workers and the necessary equipment to work in the air. High-altitude vehicles are often found in companies and pipeline companies laying lines, and are suitable for places that require large-scale high-altitude operations such as docks, stations, shopping malls, and stadiums.
China's aerial work platforms employ hydraulic chassis. This technology has full self-help intellectual property rights. The hydraulic chassis is a fully hydraulically driven, self-propelled chassis that uses emerging technologies such as electro-hydraulic integration, reliability design, and computer-assisted technology. In the past, high-altitude vehicles were all based on modified cars or chassis of a crane truck. The hydraulic chassis was an important part of the history of the development of high-altitude vehicles in China.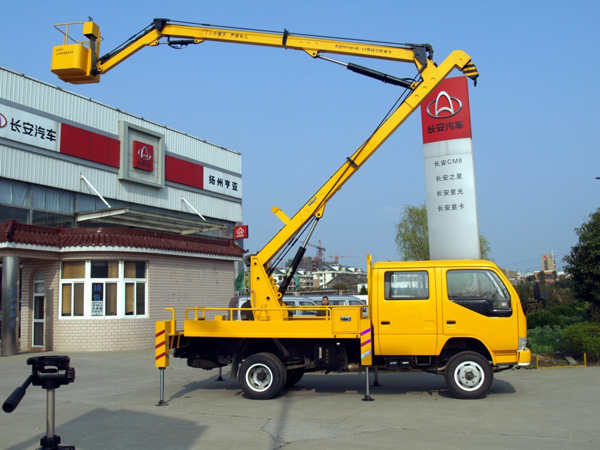 In addition to hydraulic plates at the bottom of the lift trucks, there are power transmission devices, working devices, hydraulic systems, and the most important safety devices; to achieve its high-altitude operations. Among them, high-altitude working devices include a leg mechanism, a lifting mechanism, a slewing mechanism, and the like. The power transmission device includes the power transmission parts of the working devices of the aerial work vehicle. Commonly, there are internal combustion engines and transmission and electric power transmission.
According to the form of lifts, we can position the aerial work vehicles in four basic forms: telescopic, foldable, vertical lift, and hybrid. Different lift patterns can meet the needs of different places. The boom-type aerial working platform is convenient for moving booms, and has a compact structure. It adopts a high-quality infection patch, light weight, high strength, high speed of lifting and lowering racks, and a telescopic arm. The worktable can be raised and extended, and can rotate 360 ​​degrees. Easily reach obstacles across obstacles. Scissor lift trucks are widely used special equipment for aerial work. Its scissors mechanical structure makes the lifting platform have a high stability, a large working platform and a high carrying capacity, which makes the work scope of aerial work larger and suitable for many people to work at the same time. It makes high-altitude operations more efficient and safer.
The above is a brief introduction of Xiao Bian's use, structure and types of aerial vehicles. If there are still problems, we can contact our staff. (Wen/Jun Xun)
Shijiazhuang Helper Soaring Stainless Steel Products Co., Ltd. is one of the subsidiaries of Helper Group. It is a professional manufacturer of all types of precision casting and machining components for pump, valve, hydraulic system, agricultural machinery, automobile industry and various OEM parts. The main materials are carbon steel, stainless steel and other alloy steel etc. Advanced process technology (Silicon sol process) and Investment Casting producing line and professional technical team are the advantages that will help clients to save cost and create value.
Investment Casting
Hardware Series,Flange Series,Pipe Valve Series,Investment Casting
Shijiazhuang Helper Food Machinery Co., Ltd. , https://www.ihelpergroup.com