In Dongguan, China, the "2008 China Business Cooperation for Injection Molding Industry" co-hosted by the Guangdong Plastics Industry Association and the China National Rubber and Plastics Network will be held on September 21 at the Chang'an Hotel, Dongguan.
This conference aims to build a high-level communication platform for the Chinese injection molding industry to share information, promote cooperation and enhance friendship, accurately grasp the development trend of the injection molding industry in the context of economic globalization, and understand the impact of the above-mentioned changing market on the industry. The conference will include nearly 200 companies, more than 300 high-level executives from the nation's plastic parts buyers, injection molding products/processing companies, raw material suppliers, injection molding machinery suppliers, auxiliary equipment suppliers, and mold suppliers. People participate. The conference will focus on the theme of "Strengthening the supply and demand of people and win-win situation." At the same time, the conference will have a large number of people from multinational corporations, internal industry experts, etc. to make an in-depth analysis of the status quo of the domestic and international injection molding industry.
This conference gathers talented people who are responsible for marketing in major companies and is a rare opportunity for learning and networking. The convening of this conference also made up for this gap in the current domestic conference on the theme of business development cooperation in the injection molding industry. The conference was held in Changan, Dongguan, which is the most developed in the injection molding industry. It will certainly have a profound impact on the development of the industry (the official website of the conference: http://2008.newrp.com.cn).
China Economic News
2008-8-19
Shift fork normally applied in the transmissions, its function is help to slide gears into or out of engagement with other gears in order to change from one gear ratio to another in a manual transmission.
QFAP supply various kinds of shift forks to all over the world, main of our customers are digger/excavators manufacturers, lawn mower manufacturers, truck transmission factories and construction machinery companies.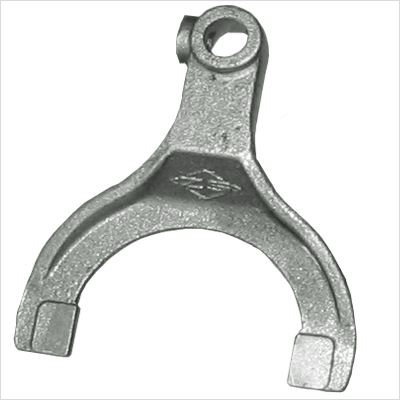 Materials: carbon steel castings, stainless steel castings, alloys steel castings, aluminum die castings, forging steel castings, etc.
Surface treatment: painting, zinc plating, passivation, nickel plating, anodizing, polishing, etc.
Heat treatment: according to customer`s requirement.
QFAP have specialized in producing high precision Agriculture Parts more than 10years, Because of the long term cooperation, we could supply our customers not only the products but also our recommendation on the designs to saving costs.
Shift Fork,Shift Fork Gear,Transmission Shift Fork,Reverse Shift Fork
SHAOXING QIFENG AUTO PARTS CO., LTD. , https://www.sxqfap.com