Operation Pressure:
Atmospheric Pressure
Operational Method:
Continuous
OVERVIEW
CT-C hot air circulating oven uses is equipped with low-noise and thermostable axial flow fan and automatic temperature control system. The entire circulatory system is sealed, improving the thermal efficiency of oven from traditional 3-7% in drying room to the current 35-45%, with the highest thermal efficiency up to 50%. The design success of CT-C hot air circulating oven make our hot air circulation oven has reached the advanced level at home and abroad.

FEATURES
Most of hot air loop inside the box so it is high thermal efficiency and energy-saving. It uses forced ventilation, with adjustable air divider plate in the box. The materials are dried uniformly. Heating sources offer a wide choice of steam, electricity, far infrared. Machine has low noise, auto-controlled temperature and convenient installation and maintenance and is stable in operation. It has wide application and can be used to dry various materials, so it is a commonly used drying device. 
APPLICABLE MATERIALS
It is suitable for heat curing and drying and dehydration of materials and products of pharmaceutical, chemical, food, agricultural, aquatic, light industry and heavy industry, such as bulk drug, crude drug, Chinese medicine decoction pieces, extractums, powders, granules, electuaries, water-bindered pills, packing bottle, pigment dyes, dehydrated vegetables, dried fruit, sausages, plastic resin, electric elements, drying varnish and so on.
STRUCTURE SCHEMATIC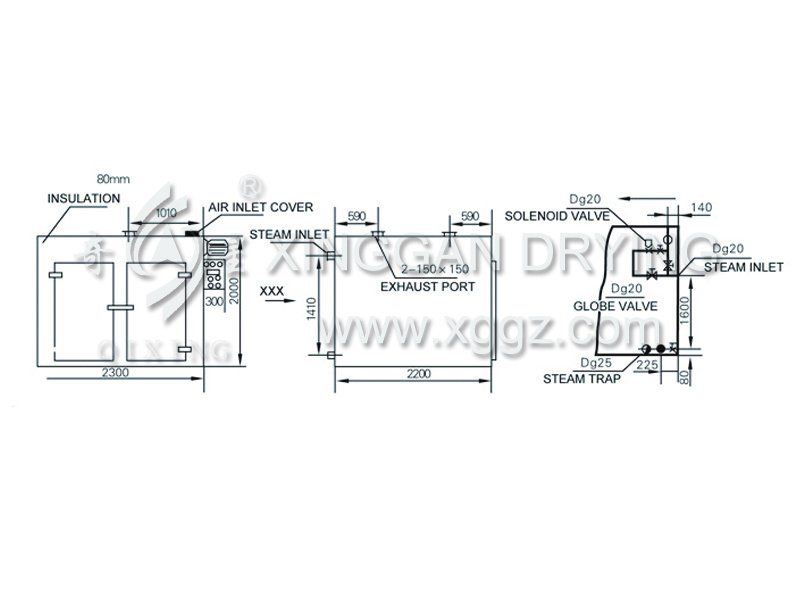 1. Heating sources include steam, electricity, far infrared, dual-use of steam and electricity, all for users to choose;
2. Using temperature: steam heating 50 ~ 140ºC, the highest 150ºC;
3. Electricity, far infrared temperature 50 ~ 350ºC;
4. It is equipped with automatic control system and computer control system for users to choose;
5. Commonly used steam pressure 0.02-0.8Mpa (0.2 ~ 8kg / m2);
6. It is equipped with electric heating, valued 15KW calculated according to type I, practical 5-8kw / h;
7. If there is any special requirement please specify in order.
Price of non-standard oven is negotiable.
Please specify in order if using temperature is more than 140ºC or less than 60ºC.
Our baking car and baking tray are in uniform size, so they are interchangeable;
Baking tray size: 460 × 640 × 45 (mm)

ACCESSORIES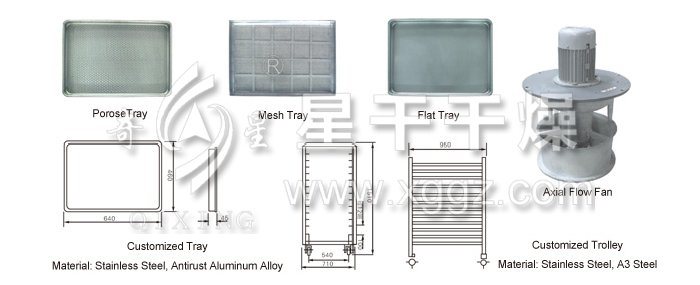 COMPANY SHOW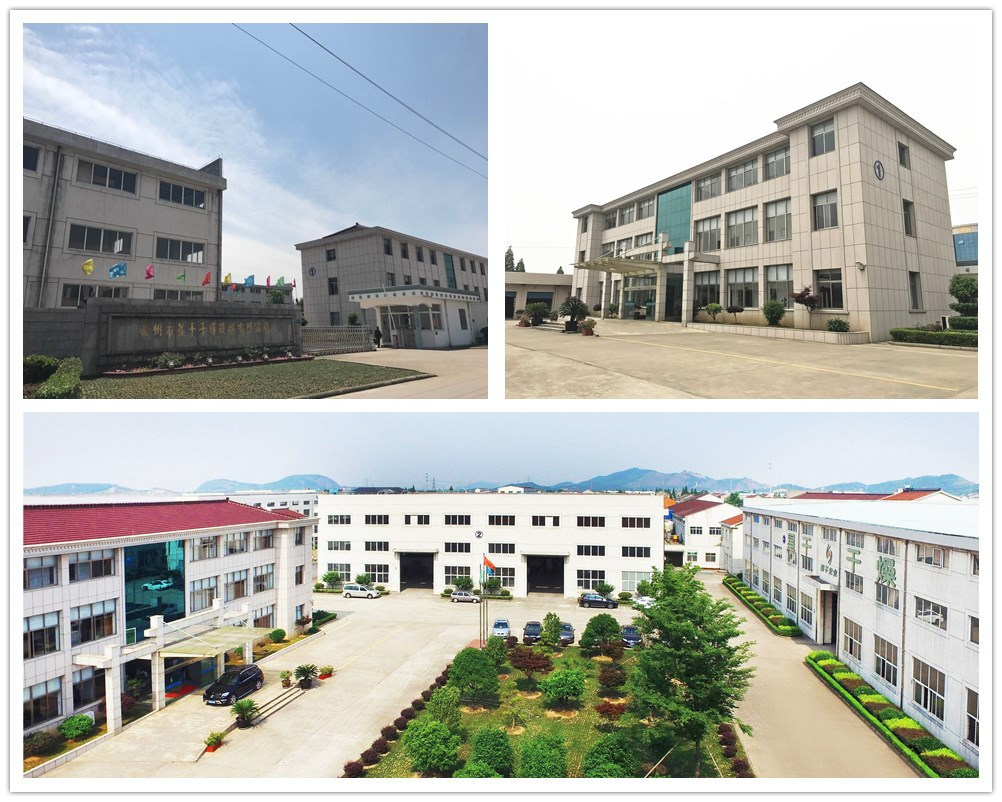 CERTIFICATES




SERVICES




pre-sale service




We Invite customers to visit our company and communicate on technical requirements face to face.




sale service




Responsible for debugging the equipment according to customers' requirements of various technical data. Our engineers will train our customers about equipment features and operation key points to make sure the equipment running in the best condition.




after-sale service




We provide installation, debugging, maintenance, training and other services; Provide relevant technical data, equipment, software and related GMP certification materials;Set up after-sales service hotline, and arrange personnel to visit customers every year to know more customer needs,like customer operation problems in the process of production equipment.




quality promise




Our company promises strictly operate the ISO9001 quality system certification standards and pharmaceutical equipment GMP audit requirements,promise we provide new equipment. Advanced technology,good quality.Equipment operation safe reliable, affordable, easy to maintain.


 


Equipment warranty period is one year,all the parts for the equipment choose well-known brand.




During the warranty when equipment have problem in quality like equipment failure and damage, our company offer free maintenance or replacement.
DM-268 Pet Treats Molding Machine is special machinery for producing pet snacks. With such machine, various lovely shapes can be made like frog, crocodile, bone, pork ears, barrel, etc. People usually give it as an ideal encouragement to dogs and cats while they learn a new action or do well in some exercises and games. Also, we can provide different recipes to meet various market demands. It has the following features:
a) DM-268 Pet Treats Molding Machine comes with user-friendly microprocessor controller with these following features.
b) Equipped with servo motor to realize higher efficiency and lower consumption.
c) Dust, oil proof and colorful touch switch control panel.
d) El display of pressure, speed, time and distance for each motion.
e) Shut-down device with 100 presets mold data memory.
f) PID barrel temperature control: temperature abnormal & electrical wire breaking alarm.
g) SSR-solid state temperature controller.
h) Screw cold start protection.
i) Abnormal shot detection.
j) Output quantity and packaging quantity preset.
k) Clamping, injection and ejection, and carriage action (option) by touch screen.
l) Screw rotating speed read-out.
m) Security code function to avoid missing data or careless changing.
n) Multi-safety protection to operator.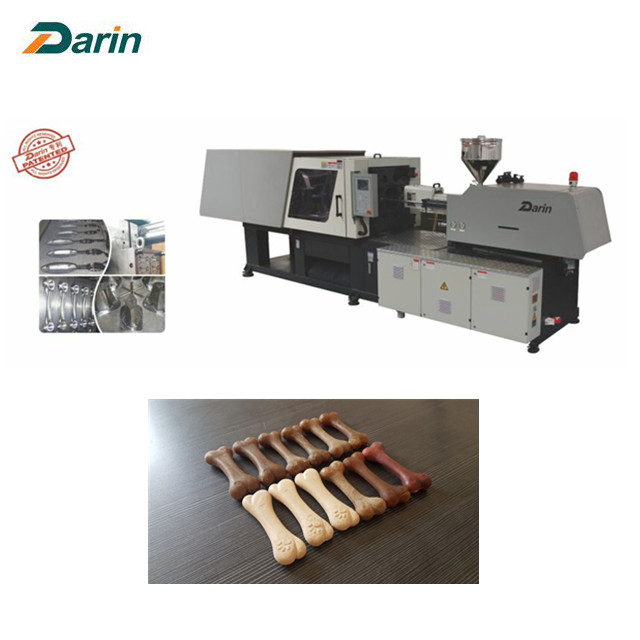 Pet Treats Molding Machine
Pet Treats Molding Machine,Pet Treat Molding Machine,Dog Treat Molding Machine,Dog Chewing Bone Molding Machine
Jinan Darin Machinery Co., Ltd. , https://www.globaldarin.com